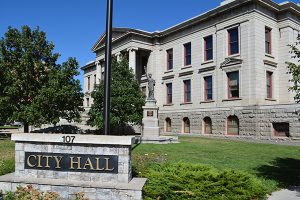 Each year, Zebulon Pike Chapter requests a Constitution Day Proclamation to be read and signed by the President of the Colorado Springs City Council. This year City Council President Richard Skorman signed the proclamation. The Zebulon Pike Chapter Regent, Leslie Brinkley, met Councilman Skorman in the City Hall building downtown Colorado Springs. There were photos, handshakes and smiles all around in celebration of our great country, the United States, and our magnificent Constitution for which so many have sacrificed so much.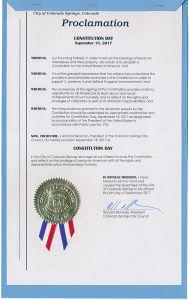 It is truly a proud moment to proclaim the greatness of our constitution and think about all our country has been through to live in a government run by the people, for the people. The Daughters of the American Revolution upholds the USA Constitution above all other documents and is dedicated to its preservation.
Zebulon Pike Chapter puts up a Constitution Day display each year on the main floor of the Colorado Springs Penrose Public Library to celebrate the history of the Constitution, its formation and its importance to our country. The display educates anyone who stops by and provides a copy of the Constitution, the document that is the cornerstone of our nation. DAR promotes Constitution Awareness Week, September 17-23 to celebrate the foundation of the United States of America.