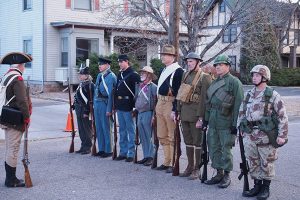 The Veteran's Day Parade is a wonderful event in which the three DAR chapters of Colorado Springs, Zebulon Pike, Kinnikinnik, and Cheyenne Mountain, come together, side-by-side carrying banners and flags along with children and grandchildren, and the Sons of the American Revolution (SAR). Honoring our Veterans is something that unites the chapters and is fun and exciting. Everyone comes out early to decorates trucks, pass out flags, meet people from other groups, check out the great costumes, and renew friendships. Walking down the parade route is the perfect time to greet veterans lined all along the route and personally thank them for their service. The Veteran's Day Parade is one of the highlights of the fall events of Zebulon Pike.
Over 150 groups line up to march in celebration of the Veteran's Day Parade. Vets, high school bands, horses, Girl Scouts and Boy Scouts, ROTC, representation from all branches of service, and groups of patriotic citizens from all over the area. The parade started in 2000 with a few non-profit groups that wanted to come together and celebrate veterans. Their mission:  To honor all veterans and to educate and inspire community awareness while paying tribute to the service and sacrifices all veterans have endured in the pursuit of freedom.
"Celebrating Military Milestones" was the theme of this year's Veteran's Day Parade in Colorado Springs. Zebulon Pike Chapter displayed a banner honoring the 100th Anniversary of  World War I from DAR. Poppies posters adorned the front and back of the truck. Bunting and ribbon were everywhere. Good times were had by all.